JULY 2014
Jim Yanaway
I am finally back, ready to keep writing about my next runner of the month. My apologizes for not keeping up with this section, I need to find better ways to organize my activities and keep up with everything that gives me energy and happiness; writing is definitely one of my joys. Since last year, this beautiful and talented runner has been on my list as a runner of the month candidate. He keeps blowing my mind with his running performance and it seems like the older he gets, the faster he runs. My runner of the month's name is Jim Yanaway. Jim is one of my favorite runners and also a very good friend. I still remember how we met, it was five or six years ago at a running event in Concan, TX. IAAP was working a 5K and Jim was the overall runner so I took a few photos of him and made him our www.iaapweb.com cover feature. Jim saw his photo and wrote me a beautiful email, and that's how our friendship was born.
I choose Jim to be my runner of the month not because he is my friend but as a runner Jim has gained my respect, my admiration, and now he is also my motivation. I want to keep up with him at the SARR Zoo Runs because lately he keeps leaving me, and most everyone else, in the dust. Jim recently ran Free-da's Run in 22:47 and his time took him to the podium as my first place runner in the age division 60 plus. Jim told me prior to the race he wanted to break 23 minutes and he did.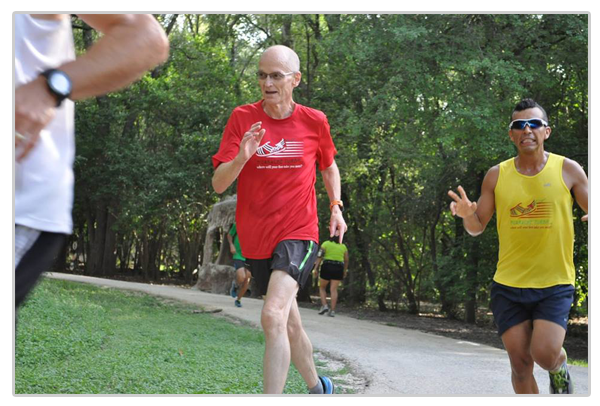 Jim's discipline and love for the sport is what I admire the most. It is always a pleasure to run with him every Wednesday evening at the SARR ZOO Run. We spend time together afterwards and he updates me on how his training is going. He works hard and his dedication is contagious! Another quality that I admire about Jim is that he always supports local races. I see him running most of the running events in town and when he is not running, he is volunteering. Jim is friends with everybody in the running community and a perfect example of a dedicated runner who keeps working hard to achieve new goals.
In my 10 questions I asked Jim to describe himself with 3 running words, but he wants me to answer that for him. My best 3 running words that describe him are: marathon, half marathon, and 5K because he is an expert in all these distances!
Below are my other 9 questions that I asked Jim about his running life.

Ceci: How long have you been running?
Jim: 34 years

Ceci: What is the most enjoyable thing about running?
Jim: Meeting new running friends, supporting local races and occasionally traveling to distant races.
Ceci: What is your favorite running distance?
Jim: The 5K is my favorite distance, with the half marathon a close second.
Ceci: How many miles do you do a week?
Jim: Around 35 miles, slightly more during marathon training.
Ceci: Tell me a good memory and a bad memory that you have experienced as a runner?
Jim: My favorite running memory is getting a hug from my niece around mile 9 at the Chicago Marathon 3 years ago. My sister and niece have come to Chicago 2 out the last three years to cheer for me. Worst, maybe having to do #2 behind a bush in someone's yard in Alamo Heights?
Ceci: Do you look forward to do a particular running event? Which one and why? 
Jim: I like all of your races, but the Dia de los Muertos is always a lot of fun.
Ceci: Any advice you want to give to the new runners?
Jim: Stick with it. Don't be discouraged if you have a disappointing run.
Ceci: How do you overcome running injuries?
Jim: I use a foam roller daily. If I do get injured, I call Airrosti and their chiropractors get me back on the road quickly.

Ceci: Do you have a runner that you admire?

Jim: Locally Juan Gusman. He is the best in my age group. Worldwide I like Meb Keflezighi. I just recently won a Rock N Roll contest and I will receive a framed bib autographed by Meb.
Ceci: Describe yourself in 3 running words.
Jim: I could let you answer that one.