May 2013
Mauricio Hernandez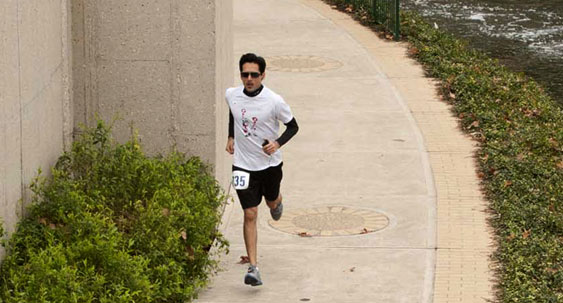 Hello Everyone!
For my very first "Runner of the Month," I am interviewing Mauricio Hernandez. I did not choose him because he is a good friend, or because he wears Huarache Turbo singlets – nope. I chose him because I am very proud of everything he has accomplished in the short time he's been running. Actually, it was his running accomplishments that motivated me to start my new "Runner of the Month." I remember only a year ago seeing Mauricio run his first 5K in 26:25, and in less than a year he broke 20 minutes!
My intent with this monthly piece is to recognize all the runners I admire by writing about them. I believe that anything is possible when you feel passionate about what you do. All you need to reach your goals is to work super hard, and great results will come in no time. That's how I've been feeling and living all my life, and that's what I am beginning to see in Mauricio's life as well. I feel like he has discovered the essence of running! My friend has surprised me with his running abilities - he is a natural runner. He gets a bit shy when I tell him that, because everything about running is new to him. I still remember the day we talked about running shoes and telling him about the importance of getting the right assistance when buying a pair of shoes.
Mauricio keeps improving every time he enters a 5K, and the best part is that he keeps enjoying it! With this interview I want Mauricio to share with all of us a bit of his new life as a runner. Below are my five questions for him: 
Ceci - Mauricio how did you end up here - I mean in the running world?
Mauricio - I started running when I was invited various times by a good friend to join her group. At first it wasn't very appealing, given that I played others sports and didn't know much about running. As it turned out she was pretty right.
Ceci - Have you done a 10K, or are you planning on running a half marathon? Maybe a marathon?
Mauricio - So far I have only officially participated in several 5K's. Though I'm not ready for a half or full marathon yet, the goal is to complete both eventually with a competitive time.
Ceci - How many miles are you running per week?
Mauricio - Since it has only been a year that I got into running, I normally run anything between 10 and 15 miles per week, since I also combine my routine with some strength exercises.
Ceci - Anything you would like to share about your life as a runner? 
Mauricio - Although it has been roughly since last summer that I got into running, I have quickly learned to grow some love and respect for it. I enjoy doing it especially now that I had a chance to know the realms of the sport.
Ceci - Describe yourself in three running words. 
Mauricio - This is a tough question. I think I can say competitive, dedicated, and still-learning.