Dulce Bares
It was three years ago when I first got an E-mail from a girl who wanted to volunteer at what was back then my very first running event: Día de los Muertos Night Run. Obviously I got very excited and surprised at the same time. It is not common to get E-mails from people wanting to help, especially when you don't know them. During that time I was still learning the art of directing a race; however, one thing I knew for sure was that volunteers are a key factor when it comes to putting on a successful running event. Not only that, they are the ones who work the hardest during a run and, most of the time, race directors are the ones looking for volunteers. After surviving my first running event and falling in love with the craziness it involves, I also became friends with Dulce Bares.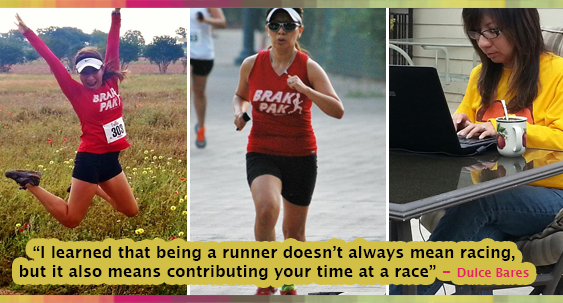 Now I'm here enjoying the beautiful weather, drinking my cafecito and writing about why I'm choosing Dulce to be my Runner of the Month. Not only does she have my full admiration and respect, she is also a big part of the San Antonio running community. Dulce Bares is the Newsletter Editor for the San Antonio Roadrunners. She is a dedicated runner who supports most of the local races by either running or volunteering, and this passion for the sport has helped her break her own personal records. The day she broke 25 minutes in a 5K I knew I had to feature her as my Runner of the Month. I witnessed Dulce's running injuries in the past, but the hurdles she has faced have only made her stronger. She never gave up her running goals and dreams, and now I want to share what she shared with me. Below is what Dulce said about her running life.

Ceci: How long have you been running and how did you get into running?
Dulce: I've been running for a total of three years, but only consistently for two. I got into running by accident. In July of 2011 I decided to run at Brackenridge Park on a Wednesday night. While there I saw a group of people cheering for runners – which made me curios – so I asked a bystander (Jerry Negrete) if they were a military group, because they were running so fast. He said "No, we are a local running group, and we meet every Wednesday night for a group run." I had never heard of a runner group. I joined them after the run, and Jerry introduced me to Sally Seeker of the Brak Pak. I've been running with them ever since!

Ceci: What is the most enjoyable thing about running?
Dulce: There are so many enjoyable things about running that it is difficult to narrow them down to one. But if I had to choose, I would say it is the actual physical part of running – the awareness that I'm able to put one foot in front of the other; that even when my lungs and legs begin to give up, I'm incredibly lucky to be doing something that gives me so much joy.
Ceci: What is your favorite running distance?
Dulce: Right now I have the most experience with 5Ks. I can feel my pace without using my watch. I find that pretty cool, because I can slow down or pick up the pace when racing. But, my favorite distances are those that take me on a run for longer than an hour. It doesn't matter if I'm racing or on a training run. Running for that long gives my mind time to reflect about whatever is going on personally. Afterwards, I find that whatever worried me is not so bad, after all. The world becomes a better place again.

Ceci: How many miles do you do a week?
Dulce: About 20 miles a week. My mileage will ramp-up as I become a more seasoned runner.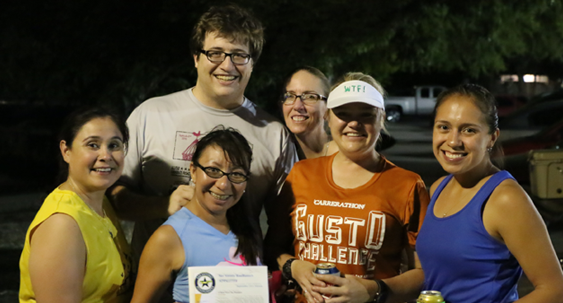 Ceci: Tell me a good memory and a bad memory that you have experienced as a runner?
Dulce: This one is easy. The worst experience I have had as a runner was last summer when I was injured with a distal left fibula stress fracture. I was diagnosed in the middle of my marathon training. I was so excited to do my first marathon that my husband decided to take me on a trip for a destination marathon. We picked the Buenos Aires Marathon as my first marathon. We had everything booked and planned when the doctor told me I would have to stop all training. To runners, being told to stop all running is like telling them not to breath. I was devastated. I was out for three months, and it took another month before I could race.
The best memory comes out of that same experience. It's interesting what happens to runners when dealing with an injury that prevents them from running. You go through all the stages of grief – denial, anger, depression, and finally acceptance. It was during this time that my running group, the Brak Pak (along with my husband), came to the rescue. They were supportive and encouraging. They taught me the importance of a running group, and because of this and so many other things I now consider them my second family.
Ceci: Do you look forward to do a particular running event? Which one and why? 
Dulce: Yes! There are a few that I will always support, and not just because I like the people organizing them, but also because I respect their professionalism as Race Directors. I feel comfortable recommending their races because I know they will be accurately timed, participants will receive great race shirts, and there will be plenty of food/beverages to go around. Those races are: Santa Antonio 5K Run/Walk, SARR Women's 5k, Freeda's 5K, Carrabba's Relay & Half Marathon, Texas Flower Women's Country 5K/10K, Fiesta Fandango, and my personal favorite Dia De Los Muertos Night Run.
Ceci: Any advice you want to give to the new runners?
Dulce: Yes, my two Rs: rest and roll. During my first year of running, I perceived rest days to be boring obstacles in the way of running. But now I see the importance rest plays in the overall scheme of making you a stronger runner. Give your body time to recuperate and rebuild. Also, after a run make sure you roll, so you can work out the kinks in your muscles. If there is a particular muscle your roller can't reach, use a tennis ball. I use a la crosse ball to work out my Piriformis muscle. I am a firm believer that rest and rolling prevent injuries.
Ceci: Do you have running dreams or goals?
Dulce: Many, Ceci, many. I find myself daydreaming about them - sometimes at the worst possible moments, like when I'm in a meeting and people are staring at me waiting for a response. One of the many goals that make me excited about being a runner is to finally run my first marathon. I picture myself crossing the finish line and feeling like a champ, because it would have meant that I put in the miles necessary to get there. Training for a marathon takes a lot of time and work, and I respect the distance. The other one is running a trail ultramarathon. But that one is a long term goal.
Ceci: How do you overcome running injuries?
Dulce: Mentally, being out due to an injury is tough. You see everyone around you running, and there you are not able to take a single step. But, I overcame the mental block by growing my sense of volunteerism. I learned that being a runner doesn't always mean racing, but it also means contributing your time at a race. I found it rewarding to know I helped a runner reach their goal by handing them water at a water stop, for example. It was also because of the injury that I became the SARR Newsletter Editor. It provides me with a whole new way to contribute to the sport that has given me so many rewards.
Ceci: Describe yourself in 3 running words.
Dulce: Tough one, Ceci. But, the three words I think best describe me are: Focused (when I'm running), Giving (with my time), and Supportive (to all runners).